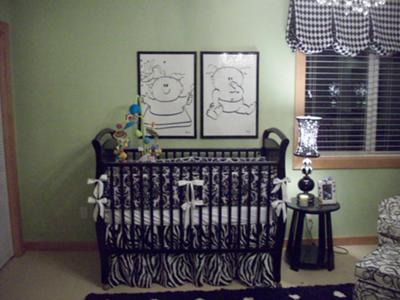 SEE MORE HERE!

The twin nursery wall ideas that you see in the above picture are pretty amazing. So much so that they took 1st place in a baby nursery photo contest. At first glance, you might see a nursery for twins and think, "That's cute, but there's nothing that I couldn't do myself". And you would be absolutely correct; no fancy wall painting techniques to learn, no wallpaper to hang. There's not even a wallpaper border, a chair rail or painted woodwork! But the color scheme and overall nursery design works so well that it won first place in a nursery decorating contest!

This twin nursery is painted in a soft, sage green paint color with some framed artwork over the baby crib and a simple black and white window valance, nothing fancy. I decided to take a look at the twin nursery pictures and imagine a complex pattern painted on the nursery walls. When I tried it, I just didn't like how the wall dominated those adorable twin boy and girl art prints. I even pulled my portfolio of twin nursery wall ideas to see if I could find a color or wall painting technique that I might prefer over the solid green paint and failed.

I took this as a reminder that the design of stunning wall decor does NOT have to be complicated. There are times when simplicity is the best route to take.