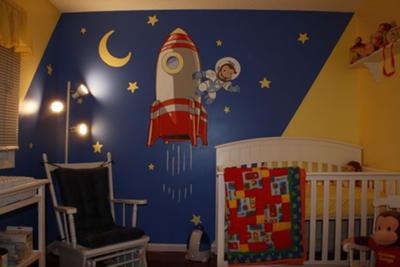 SEE MORE HERE
This picture has more than a few amazing rocket ship theme nursery wall ideas. In fact, they would work for a rocket ship themed room for an older boy as well as an infant astronaut.

The outer space wall mural was inspired by one of the ever popular Curious George storybooks. The parents of the lucky little boy who occupies the space painted the artwork themselves using an overhead projector to perfect the layout of the characters only after they had the dark midnight blue background color in place. I love how they used a bright yellow paint color in the rest of the nursery to contrast with the dark blue color of outer space as well as to pick up the color of the moon and stars.

After they painted the background color and had all of the drawings of the spaceship, Curious George the Astronaut and the moon and stars in place they filled in the colors using the outlines that they had traced.

The spaceship wall mural is just one of the rocket ship theme that are shared in the instructions. There are several pictures of outer space themed wall decorating ideas and decorations including a nifty spaceship storage unit and shelves decorated with lamps and other items in keeping with the "intergalactic" atmosphere of the room.