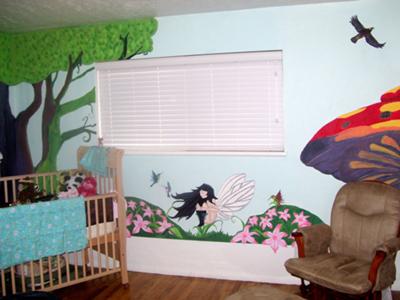 This fine example of gothic fairy wall art is, as you can see, a wall mural that was painted in a baby's room. There's nothing evil or menacing about the fairy princess reclining on the grass surrounded by woodland creatures.




In fact, the raven haired fairy is rather enchanting with her gossamer wings and sassy black boots. The pink flowers contrast very nicely with the bright, green grass and gives the painting an ethereal, peaceful feeling while the psychedelic (?) mushroom positioned to the side and the blackbirds flying overhead are what give the gothic fairy wall art a unique personality filled with fantasy.

I can imagine a new mother rocking her infant beneath the multi-colored mushroom painting that defines this unusual fairy nursery theme. We aren't able to see the cap of the mushroom, but if we could I wouldn't be surprised to see Absolem the hookah smoking caterpillar from Alice in Wonderland as a companion to the fairy princess in the painting, would you?