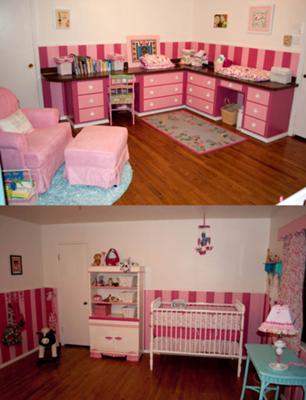 SEE MORE IDEAS FOR PAINTING STRIPES HERE!

Painting pink striped walls in the nursery and in girls' rooms of all ages is a great way to give walls more personality and pizzazz! You can alternate stripes in wide stripes, narrow stripes, vertical stripes or horizontal stripes. It really makes little difference whether you paint them up and down or sideways they will make the entire bedroom look more tailored and stylish.

VERTICAL STRIPES or HORIZONTAL?

Make your pink stripes work for you! Bring the ceiling height down to make the room cozy by painting horizontal lines. Paint vertical stripes to make those traditional eight foot tall ceilings seem taller making a tight space seem airy.

HOW WIDE SHOULD I MAKE THE STRIPES ON MY WALL?

The width of the stripes that you create on your pink striped walls is determined by the size of the room. As an example, no matter how much you love stripes it would be a mistake to paint bold pink stripes in a small room. For a small bedroom, less contrast in your pink paint colors is best. The idea is to create a backdrop for the furnishings of the room not a design that will overpower and compete for attention. Another tip for making a small bedroom seem larger is to paint WIDE pink stripes, since wider stripes make a room seem bigger.


HOW TO CHOOSE 2 PINK PAINT COLORS

As always, I recommend choosing your wall paint color according to an inspiration piece. Take your inspiration piece or fabric swatches to the paint store. The best way to insure that your shades of pink are perfect for each is to take a dark pink and then a lighter shade of pink from the same paint sample card. And if you have never experimented with paint glazes, this may be the best time ever to do some research because nothing is more lovely than a combination of salmon pink and pale shrimp pink glazes to create alternating light and dark pink striped walls.

If you are having trouble choosing color or style, there are many pictures of pink striped walls to help you make a decision.