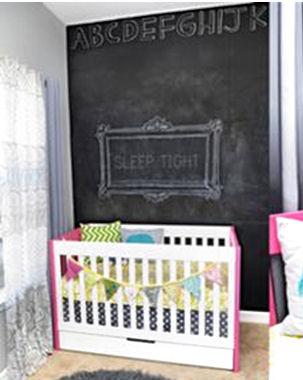 The beauty of decorating with chalkboard paint is that for just a few dollars you can have a fully functional chalkboard on the walls of your baby's nursery or in any room of your home. You can make chalkboard paint the focal point of any room with no more effort than it would take to paint the wall in colors.

And unlike your average, run of the mill wall paint chalkboard paint is made to write on! The only problem that I've had with my chalkboard walls is having to explain to my girls why they could write on some walls and not others.

HOW TO PREP THE WALLS FOR CHALKBOARD PAINT

Step 1 - You must prepare the walls that you have chosen to decorate with chalkboard paint in much the same way that you would if you were using any other paint. It's necessary to clean and smooth the wall as well as putty any existing nail holes.

Step 2 - Use painter's tape to isolate the area of your chalkboard. Applying a coat of dark tinted primer on the area of the wall where you want the chalkboard is recommended if you are using a dark color paint.


The last step - After you are SURE that the paint is dry take a large stick of chalk (I used sidewalk chalk) and "color" your chalkboard and then wipe the chalk off. This process is a sealer insuring that whatever is written and drawn in the future can be erased, leaving no "shadows".


That's all there is to the application process; it's not very exciting, is it? It's decorating with chalkboard paint that's a blast! Some people prefer using Krylon spray paint rather than applying the paint to the walls using a paint brush or roller but I haven't tried it.

MAGNETIC WALL PAINT

MAGNETIC CHALKBOARD PAINT takes the concept a step further. Not only can your children write on the walls, they can take advantage of its magnetic properties to create 3D masterpieces by attaching their artwork to the surface.


COLOR

The most popular CHALKBOARD PAINT COLORS are black (if you consider black a color), blue and green. I prefer using black when decorating with chalkboard paint because it is both versatile and neutral.

However, you can actually make chalkboard paint in ANY COLOR that you need for your room and the instructions for this wall painting technique are easy to follow.