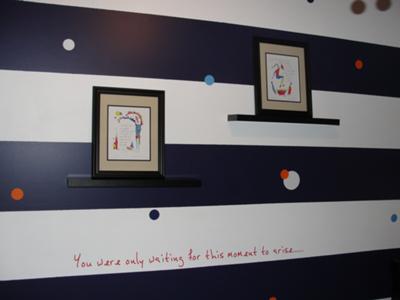 MORE PICTURES HERE
!
Ever since I saw this picture I have wanted to learn how to paint black and white stripes on the walls of my music room. While painting vertical and uneven stripes on the walls has been done so much that it's almost commonplace, the painted horizontal stripes on this wall really knocked me out; they are so contemporary and sharp looking.

I noticed that in the pictures, the DIY painter broke up the pattern with strategically positioning wall quotes as focal points in the room and by bouncing polka dot wall decals throughout the design. Since the stripes in the pictures were in a baby's nursery these decorative touches in addition to the artwork were appropriate and softened the impact of the painting technique while leaving the very desirable high contrast that is known to be visible to newborns very early.

Adults who go to the trouble to learn how to paint black and white stripes for a master bedroom will probably leave them unadorned for an uncluttered, modern look.