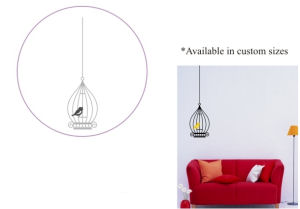 It may not have a big wing span, may not flutter or fly, but bird wall decor can still lift your spirits and brighten a room by bringing the mood of outdoors into our living spaces. And you don't have to be an avid bird watching ornithology buff to appreciate the beauty of these delicate creatures.

We may never be able to enjoy the feeling of freedom that flying without benefit of mechanical assistance but that should not stop you from enjoyment of birds. Here are some bird oriented home decorating ideas that are quick, easy and inexpensive. And best of all, you can do it yourself.




BIRD WALL STENCILS


With some sheets of stiff plastic, a brush and some paint you can not only skip buying rolls of wallpaper border that's expensive and messy to hang on the walls. There is the issue of preparing the surfaces in such a way that the pre-pasted paper will stick properly. Plus, we are all not natural paper hangers. Some of us have to pay a professional to come in and do the work which adds even more to the expense of creating our decorative bird wall. Bird stencils are cheap in comparison and you can pick and choose the best colors that work with your furnishing and accessories already in your home. There are no rules that say that you have to stick to the natural colors of your favorite species. If you need lavender flamingoes, go for it.

BIRD DECALS

Bird wall decals may be the least expensive and most amusing way of all to get a flock of pretty birds on your walls. To display them to full advantage, you may want to take the time to have a tree mural made of wall stickers in place where they can rest as well as a blue sky where they can sail on the imaginary breezes.

BIRD WALL CLOCKS

The classic bird clock would, of course, be the traditional cuckoo clock. However, modern wall clocks with bird designs include everything from singing bird clocks to Tweety Bird cuckoo clocks. So, long as you stay in keeping with the feel of the rest of the room, take your pick.

BIRD WALL SCONCES

Bird wall sconces may be the most attractive of all styles of bird wall decor. Bird candle holder sconces or electrical fixtures with lamp shades edged in feathers are very fashionable in formal areas and the bedroom.