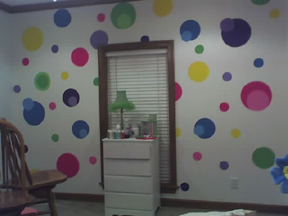 Why anyone would want to know how to paint circles on the wall when there are so many ways to get those circles in place using decals and stickers is difficult for me to understand.
Knowing that these are viable options and yet you are still looking for instructions for

how to paint circles on the wall
, I have to assume that your reasons might have something to do with getting an exact paint color match or just having some leftover paint in buckets that's just sitting around and needs to be used up to keep it out of the local landfill.
If the latter is your reason, I applaud you for doing your part to save the environment and hope that you will send in some pictures of your

wall decorating ideas
when you're done!
Another way of decorating the walls with circles in addition to painting or stenciling would be to make circles out of leftover fabric and Styrofoam discs. The
instructions for how to make this
circular shaped wall art seem very easy to follow and from the pictures, the artwork is not only lightweight but you get to use up all that leftover fabric from your sewing projects (not as green as keeping paint out of the landfill but good for organizing your home) and it looks amazing!