This alligator wall painting cleverly camouflages a large wall shelf in a baby boy's nursery.

This is just one of the many wall painting techniques that are featured in the jungle themed room. The is a painted tree mural decorated with monkeys and butterflies as well as other jungle creatures hidden almost out of sight in corners and peeking from behind the furnishings in the room. The alligator was painted using a bright, green paint color with the details outlined in black acrylic.

Those of you who are less artistically inclined might consider buying a large alligator wall decal and centering a floating wall shelf on top. Using a sticker rather than painting the wall decorating yourself would save lots of time and (if you're like me) possibly produce more professional looking results.

Here's another example of a room where alligators play a big role in mom and dad's ideas for a baby boy nursery.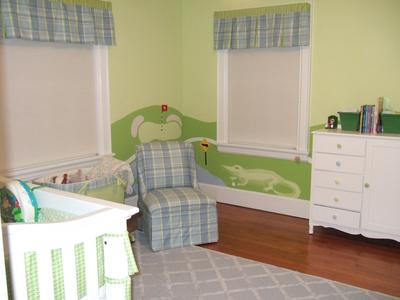 Which brings up the fact that if you want to decorate your baby's nursery walls with alligators, you don't have to paint or use wall decals; you can stencil your gator on the wall using any paint color you like!

Where can you put these wall painting ideas to work?

You could use them in kids' jungle theme bedroom or nursery or your alligator could hang out by your painted golf course's water trap like the one in the picture above!