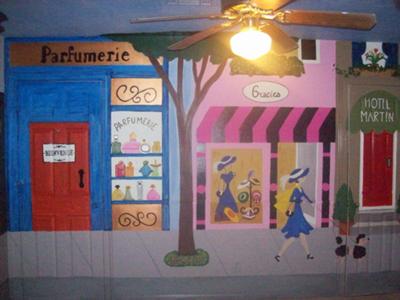 French baby nursery wall decor can be something as simple as some removable peel and stick wall decals, framed pictures of French poodles OR you can take out all the stops like one mom who entered her artwork in a contest that I have bookmarked just to see how walls in modern nurseries are being decorated.

Wall stickers and decals are without a doubt the quick and easy way to decorate with images that reflect the nursery's theme, the baby's monogram or an inspirational saying or quote sharing wisdom from a favorite Bible verse or a motivational text taken from a popular children's book. It doesn't even have to be a very serious text. For instance, quotes from Dr. Seuss books have had a very good run.

And then, there are elaborate hand-painted works of art like the French baby nursery wall decor that take (according to the artist's description of how she painted the mural) about a month or so to complete. If you want a real treat, drop by and take a look at this devoted mother's wall decorating ideas.

Her artistic interpretation of life in Paris includes paintings of quaint Parisian bistros shaded with three-dimensional (3D) awnings, bakeries and sidewalk cafés as one might enjoyed while scrolling along the Champs Élysées and are an inspiration to jump in and start painting those walls with scenes of gay Paris'!