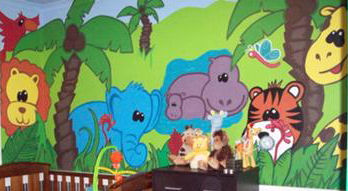 SEE MORE HERE!


Is this one of the most adorable jungle wall murals you have ever seen or what? I can't decide which of the jungle animals that I love the best, the purple hippo, the big blue elephant or the cute lion, giraffe or tiger. All of the animals in the mural are painted with such sweet expressions on their faces and such charming features that they tug at your heartstrings.

Unlike jungle murals where the animals blend into the jungle scenery, this mural artist chose to paint the animals and colors that would virtually guarantee that they were the standouts of the painting with the lush, leaves, palm trees and undergrowth taking a back seat.


We just have one picture of the wall but the artist that was nice enough to share her wall painting ideas with us tells us that the ceiling as well as the nursery walls are also painted! This artistic lady drew all of the details of the artwork directly on the walls herself without using a projector or stencil. With the help of her husband she took charge of outlining the animals in the wall mural and mixing the paint colors while her husband 'filled-in' the images with the bright and cheerful colors that we see. We love this jungle mural believe that any child would enjoy having such a great mural in his or her room!