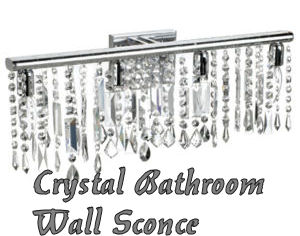 Candle sconces are an excellent way to cast a romantic, subdued light over any area. The use of dimmer switches to diminish the harsh effects of the chandelier over the dining table or the center of the ceiling may leave the outer edges of the room looking dark and abandoned.


Proper placement of
candle wall sconces
will leave the cozy atmosphere in place while eliminating dark spots. Rather than pulling the walls inward and reducing the visuals of a space, attractive sconces, electric or non-electric, expand the size of the room by illuminating and exposing square footage that would otherwise be unusable cloaked in darkness.

WHAT KIND OF CANDLE SCONCES SHOULD I USE?

All of the
light fixtures
in a room should blend in the same fashion as all the other decorations. As an example, the occasion would be rare when it would be advisable to combine rustic, wrought iron candle sconces with pieces decorated with lead crystal beads and teardrop shaped pendants.


PLACEMENT OF CANDLE WALL SCONCES

As we mentioned earlier in this article, anywhere in your home that the dimmed ceiling or lamp light doesn't reach is an excellent place for these low wattage light fixtures. Walls in your hallways as well as the far end of your living area are all appropriate spots.

WIRING

Architects are no strangers to the challenges of drawing blueprints with properly spaced wiring that will allow for whatever type of lighting is best for the square footage in bedrooms, dens or dining rooms. However, planning may include a certain number of wall outlets to accommodate floor and table lamps rather than sconces that must be hard wired before the sheetrock is installed. Homeowners who recognize the advantages of light fixtures installed on the walls should consult with their draftsman so that such wiring is included in the layout of their home.

For those who didn't have the luxury of designing custom electrical wiring diagrams during the planning phases of their home, candle holder sconces or plug in sconces are acceptable alternatives. Check to be sure that covers for the electrical cord come with your electric candle sconces so that the end results will have a polished look.

CANDLE HOLDER SCONCES

Some decorators prefer the use of real candles over artificial lighting in their decor. I have to admit that flickering candlelight has its charm, but there are times when safety issues and practicality outweigh the decorative appeal of the real thing. An open fire of any kind requires constant supervision and there are times when I don't want to baby sit my appliances.

Drafts have a nasty habit of blowing out the candle's flame leaving a smoking wick that has the ability to overpower the aroma of food at a dinner party. If you still insist on lighting candles over low watt light bulbs, you should shop for candle wall sconces that have a hurricane shade to guard against the random breeze ruining the otherwise pleasant scent of your home.

Return to All Wall Sconces, Wall Papers, Clocks and Decor for more ideas on decorative fixtures to brighten the dull spots on the walls of your house on the outside as well as indoors.